JARZOMBEK COMMUNICATIONS is an innovation consultancy for B2B brands. In collaboration with companies and agencies, we design communications strategies for the digital age to achieve ambitious B2B outcome. As an early mover, we are one of the first communications consultancies facilitating generative AI solutions in B2B brand communications. We deliver new perspectives to identify innovation potentials and help clients to accelerate change.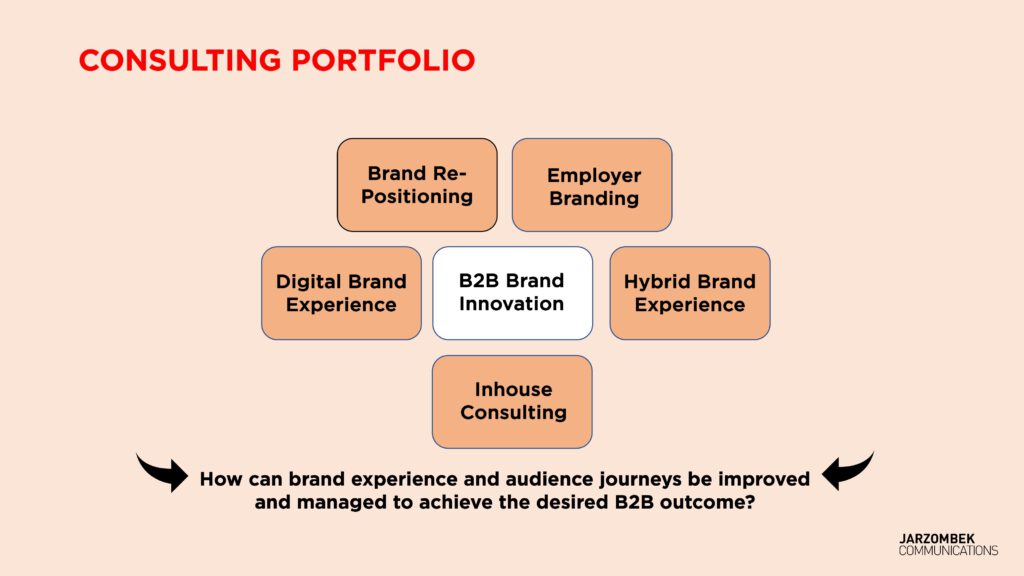 Our expertise includes Brand Re-Positioning and Brand Purpose, Employer Branding and D&I, Digital and Hybrid Brand Experience. As interim managers we also work inhouse, serving as independent catalysts on client side.
JARZOMBEK COMMUNICATIONS was founded in 2002 by Katharina Jarzombek. With 25+ years professional experience, including 10+ years management experience on company side, Katharina has a deep understanding of international corporations and matrix organisations. She is a certified business coach and holds a master's degree in Japanese Studies, Computer Linguistics and Cognitive Semantics (Bonn University and Waseda-University, Tokyo).
Stephan Hörsken is Senior Advisor for digital marketing and sales, and independent digital communications consulting partner of JARZOMBEK COMMUNICATIONS since 2023. Stephan contributes 25+ years of professional experience in management and inhouse consulting roles for B2B and B2C brands, including Deutsche Bahn, Lufthansa, Mercedes-Benz, Thyssen-Krupp and Zeiss. He is a certified product owner and scrum master, and holds a master's degree in Communication Science (University Duisburg-Essen, Germany).
Katharina Jarzombek's Vita
After completing her master's degree Katharina worked for German PR market leader Kohtes & Klewes. In 2002 she founded JARZOMBEK COMMUNICATIONS, a consultancy initially specialised in international brand communications and interim management. Many years in international leadership positions in publicly listed companies, family-run businesses and agencies followed. In 2016 she founded WOMAN AT WORK Business Coaching for Women, a scientifically grounded coaching programme tailored to women in leadership. As a trained computer and cognitive linguist, she has focused on generative AI driven innovation in B2B brand communications since 2023. Born in Poland and grown up in Germany, Katharina speaks five languages and lives in Düsseldorf. Since 2009, she has been actively engaged in art and culture, including RUHR.2010 European Capital of Culture and prestigious BRAFA Art Fair.